Who DO WE THINK WE are, Anyway?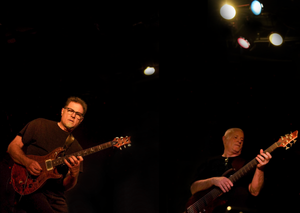 Hello there!
Let's make some strong tunes that lock in to powerful grooves, to spin tasteful solos over the top of grinding fifths; tube amps glowing and bubbling rich harmonics, notes blooming; frequencies low enough to break bricks, and percussion like freight trains. These are the things we love. These are the things that make our hair stand on end.
We're Joe Sherohman and Craig Schmoller, better known as Smokin' Henways. Who doesn't love the simple message, the minimalism, the laser focus of a powerful three-piece Jazz/Rock/Fusion/Texas-style Blues band? We know we do, and that's why we do what we do!
Give us a shout - Let's get acquainted!
Joe and Craig
"

Sounds fantastic! I'll be on the lookout for live shows postpandemic!" - B.K.
"

[M]ellifluous...!!!" - P.D.
"

Finally something good comes out the quarantine!!! " - P.R.M.
"

Love these. Keep 'em coming!" - M.K.
"

...seasoned jazzy, funky, heavy, bluesy original music. A 2021 must hear release..." - P.F.D.
"

Mighty fine music." - P.W.
"

Wow! .... Love it! " - S.W.